Attention to detail is what sets Borer Family Chiropractic apart from the rest.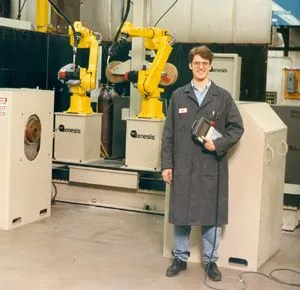 Dr. Rob Borer brings an engineer's critical thinking and attention to detail to his work at Borer Family Chiropractic. Dr. Rob graduated from the College of Engineering at Michigan State University and worked several years as an engineer prior to deciding to change careers and become a chiropractor.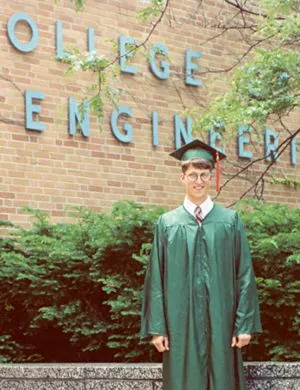 Dr. Rob incorporates the precision and specificity he developed as an engineer to his approach to analyzing the cause and the correction of the problems that patients bring to his office.
Dr. Rob Borer has incorporated some of the most sophisticated and most highly advanced technology to the testing and diagnostic process at Borer Family Chiropractic.
One of the advanced testing process' used in the office is computerized thermography.
Computerized Spinal Thermography is used every visit to our office. This test is performed both before and after every adjustment to the spine.
These tests help guide your doctor as they determine:
1. Do you in fact need an adjustment that visit?
2. If so how severe is the nerve pressure?
3. How well did you respond to the adjustment?
4. Does the doctor need to modify your next adjustment in any way?
5. How well are you making progress towards your health goals?
Here is an example of a thermal graph before an adjustment and after an adjustment: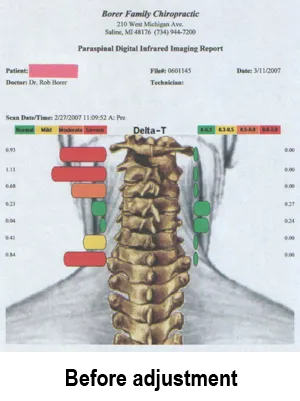 (Green areas indicate healthy nerve activity. Yellow, orange and red colors indicate where nerves are being irritated and pinched by misaligned spinal bones. The brighter and longer the bar on the graph - the more severe the nerve irritation.) (Notice how there are fewer brightly colored findings in the test after the adjustment)
During the time a patient is under care the thermal scans will indicate a patients progress and how much nerve pressure has decreased.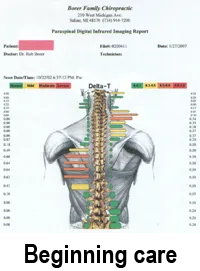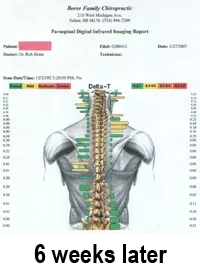 Drs. Rob & Sherri Borer monitor other aspects of your body function throughout your care plan and know exactly how much improvement has been made.
The doctors perform progressive reevaluations every 12 visits to determine your progress. Your progress is conveyed in a patient progress graph.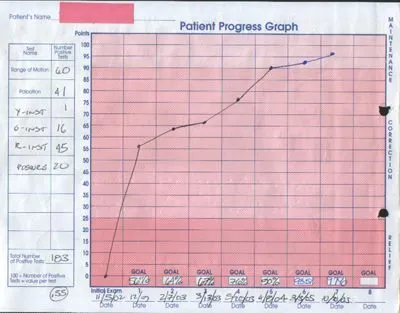 Based on your progress the doctors will know if your care is on track or if any changes will be necessary to the delivery of your care, to achieve the desired results.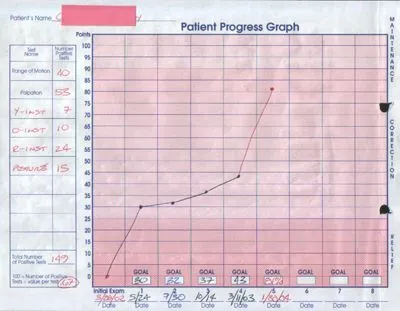 Progress is monitored visit by visit, week by week and month by month. Regardless if you choose to remain under care until your symptoms dissapear or until you have optimized your health, with any path pursued in our office, your progress is monitored every step of the way.