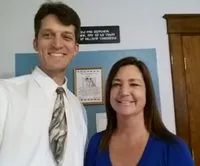 "Since I took a spill down a flight of stairs I have been experiencing daily headaches, sciatic pain and numbness in my hand. When the problem started occurring more often I decided to visit Borer Family Chiropractic. I was impressed by Dr. Rob's professionalism and the precise teststhat he used to measure the alignment of my spine. When my first low-impact and painless adjustment was done, I thought to myself, it doesn't feel like he did anything to my neck, how is that going to help me? Well let me tell you how it helped me; from the day of that adjustment my pain and discomfort went away. I haven't experienced any numbness in my hand, had a headache or had an episode of sciatica since then."
Laura Lancewicz
Ypsilanti, MI
---
After years of trying the medical route consisting of round after round of cortizone shots, physical therapy and aggressive chiropractic treatment, Karen was referred to Borer Family Chiropractic, where she discovered the effectiveness of precision Upper Cervical Chiropractic Care.
Karen had been consulting with an orthopedic surgeon for years who had been treating her carpal tunnel with cortizone shots and physical therapy, neither of which were providing her with any relief. Karen had also tried more than one chiropractor who were very aggressive and rough, actually causing pain after the adjustments... and not resolving her problem either.
Finally, Karen found Borer Family Chiropractic and discovered a gentle, precise and accurate solution to her neck problem. Yes you read that correctly. Karen had a neck problem, not a wrist problem. All of the symptoms she was experiencing, the numbness in the arms and hands, the tingling, the pain was all coming from nerves that were irritated by mis-alignments in the bones in her neck.
Utilizing our Upper Cervical Specific or Atlas Chiropractic approach, the exact angles of misalignment in her neck were analyzed and used to deliver precision adjustments, which due to their accurate nature, she barely felt at all. Certainly, there was no twisting, popping or cracking. And there was absolutely no pain after an adjustment.
Karen has made a remarkable recovery and improvement in her quality of life and reduction of pain and symptoms.
Listen to Karen talk about her experience at Borer Family Chiropractic:
---
"I came to Dr. Borer having been told that I needed neck surgury. Now after six weeks of upper cervical care the mobility of my neck and the lack of pain or numbness amaze me! For the first time in six years I no longer take Motrin 800 like candy. I now can enjoy playing with my grandchildren without any limitations, which is the greatest joy to me and something I didn't think would be possible." Thank you Dr. Rob.
JoAnne Clements
Belleville, MI
---
"Last year I found myself suddenly paralyzed on one side with an excruciating headache. I was released from the hospital able to move but still had debilitating pain and numbness resulting in the loss of my job. I saw teams of doctors who could not help me. Finally I found Dr. Borer. After a brief course of upper cervical care I'm feeling great; No headaches, No numbness. I can't say enough about Dr. Rob Borer. Thank you!"
Scott D.
Milan, MI
---
"After suffering 5 years of progressive neck, shoulder and arm pain including numbness in my right arm, which brought about bad headaches, I came to Dr. Rob. After I started receiving adjustments, the pain and numbness in my arm is completely gone. I only experience a little tenderness in my neck. The pain never gets bad enough to cause any headaches. Thanks Dr. Rob!"
Mindy M.
Saline, MI
---
"I had severe pain for over two years. After just the second or third adjustment I noticed a big difference. I do not have headaches or neck pain in the morning anymore. The numbness & tingling in the shoulder blades is gone."
Astrid W.
Ypsilanti, MI
---

"I have seen four medical doctors, one specialist. I have had about 20-30 x-rays taken including an MRI for my back and neck. I've taken muscle relaxers, Motrin 800 mg and too many more prescriptions to list. None of these approaches has helped me. After receiving upper cervical care at Borer Family Chiropractic, I don't have back problems, headaches and no more pain or numbness in my arms and hands."
Helmut L.
Tecumseh, MI