2022 Scarecrows
2022 Theme: "Farming & Agriculture"
Entry #1
"Lady Pigerty"
by Liberty Club
"MMMMM Bacon by Homer Simpson"
Entry #2
"Pickleball Pauline"
"Pickleball is the fastest growing sport for adults in the country. It is a fun sport that combines the elements of tennis, badminton, and ping-pong. It is a great workout, with cardiovascular benefits, great social interaction, and it is just plain fun! It can be enjoyed by all ages and skill levels. It is especially popular with those 60+. For those who can no longer play tennis, this game "takes them back to their roots" and is an enjoyable way to be physical and competitive! Try out SASC Pickleball!".
Entry #3
"Old Saline Farmstead"
by the Boyless Family
"Inspired by a photograph found in the book "images of America: Saline" by Susan Kosky, an unidentified Saline woman feeds chickens. At the time, many area farmsteads and village homes kept poultry."
Entry #4
"Monica the Barnyard Bride"
by Miss Saline
Entry #5

"Ms. Ginger"
by Gingerbread House Preschool
"Sowing a Love of Learning"
Entry #6
"Little Garden Helper"
by Kristen
"Specializes in picking tomatoes and over-watering".
Entry #7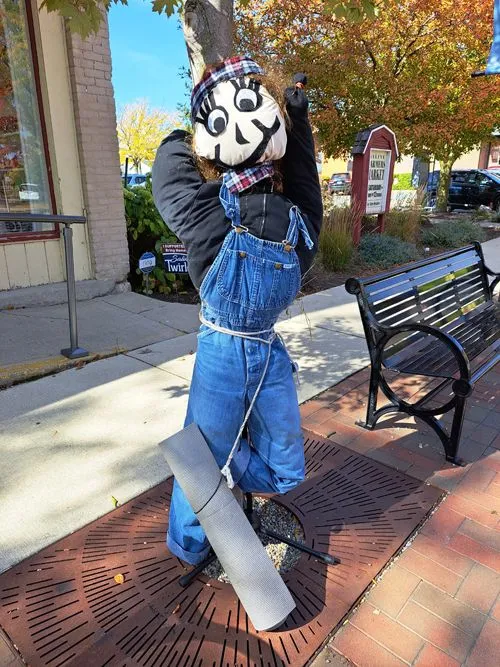 Entry #8
"Yogi Sally Risdon"
"Sally Risdon, the wife of Orange Risdon, may have been Saline's first yogi. See her here doing a tree pose during her yoga practice to help deal with the ups and downs of life on the farm."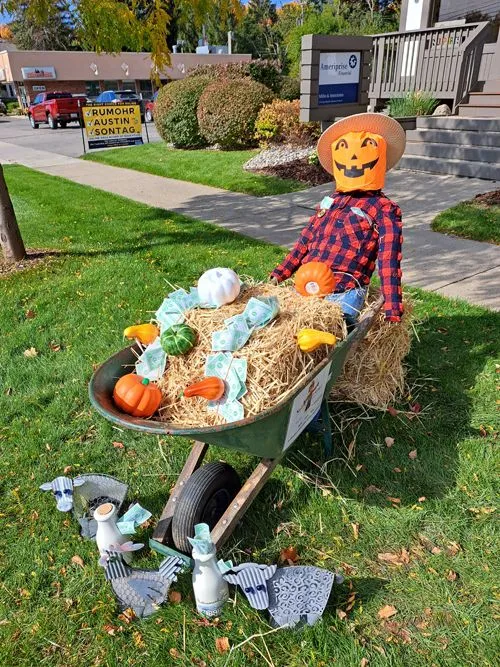 Entry #9
"Jack-O-All-Trades"
"The Farmer's Market isn't the only Market that Jack Trades in!"
Entry #10
"Farmer Bones"
"I've worked myself to the bones to put healthy, local food on your table! Support your Farmers Market."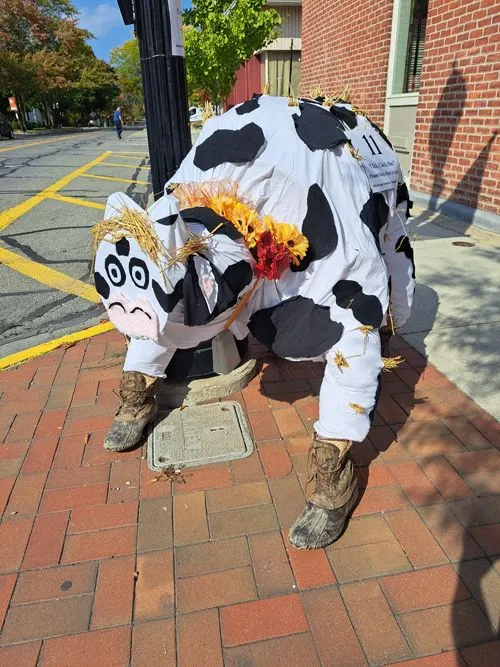 Entry #11
"Click, Clack, Moo!"
by Pleasant Ridge Elementary School, 1st Grade Class
Entry #12
"Double, double SOIL and TROUBLE"
Entry #13
"Saline - A Honey of a Town"
by Clossick Realty MI Home Team
"Without bees, 3/4 of our food supply wouldn't exist. Avoid using pesticides on your lawn and garden to help keep bees and local polinators safe."
Entry #14
"You Kids Get Off Ma' Lawn"
"We can feed the world if we all work together!"
Entry #15
"Head Over Heals"
by Nu2u Again Resale Shop
Entry #16
"Future Farmer of America"
"Learning to do, doing to learn, earning to live, living to serve."
Entry #17
"Praying for a Good Growing Season in 2023"
by St Paul United Church of Christ
Entry #18
"Ginger the Hen"
Entry #19
"Opal the Gardening Granny"