Dr. Rob has been a vital part of helping me meet my goals for 2015. When I first came in early in the year I had taken a fall during a cross training session of XC skiing and I was a hot mess. Through regular care and adjustments I went from not even being able to run a few miles without intense knee pain & swelling to completing 2 Half Iron Mans (Muncie & Superfrog), and coming home with a personal best at USAT Age Group Nationals in addition to having the best local race season of my life. Thanks Dr. Rob!
Melissa Marowelli, Iron Man Triathalete
Saline, MI
---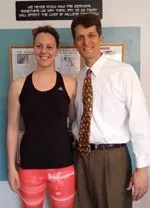 I was referred to Dr. Rob Borer by my trainer when I began to experience decreased mobility and range of motion in addition to constant tingling and numbness down my arm that was accompanied by ringing in my ears. As an athlete it is incredibly important to be able to be at your best everyday so you can get as much out of your practices as possible. Dr. Borer really understood that and worked with me and around my training schedule to get me back to peak performance. I now have full mobility and range of motion back in my arm, which has allowed me to excel at practices. In addition, I do not experience any tingling, numbness or ringing in my ears since he has been working with me! I highly recommend Dr. Borer and his practice for any of your Chiropractic needs! Thank you Dr. Borer for everything!
- Sarah Maraskine, Performance Aquatics 2016 Olympic Hopeful
---
I had been having low back and hip problems for a while. I would notice it about half way through my basketballand volleyball season and my point average and serve percentage would drop. After 2 to 3 weeks of going to Dr. Borer I was able to play my games without pain. My first game back I scored 18 points and enjoyed every minute of it.
Brittany Shields
Saline, MI
---
Follow Borer Family Chiropractic's board Why Athletes & Chiropractic on Pinterest.
---
Dr. Rob Rocks! In the spring of 2004 I had a severely sore shoulder that hampered me from doing only one thing. Unfortunately it was one thing I loved to do - golf! After some prodding I finally agreed to let Dr. Rob check me out. After my examination, he concluded that two auto accidents 10 years ago had finally reared their ugly head. With my spine out of whack, I had a pinched nerve in my neck that was causing all the pain. Dr. Borer told me my problem could be fixed with treatement and he did not lie. One month after starting treatment I had little pain in my shoulder. In three months, his treatment allowed me to play PAIN FREE. The treatment not only improved my golf scores, they also fixed some problems that would have done long-term damage to my spine if I hadn't got them fixed. I can honestly say I didn't believe in chiropractic before I visited Dr. Borer. But now I can honestly say I 100 percent believe in what chiropractic is about and what Dr. Borer does. In my opinion, Dr. Rob is the best in the business.
Craig Yuhas
Canton, MI
---
While running for Saline cross country in the fall of my freshman year, I often experienced hip pain. Then, while running track in the spring, I was diagnosed with a stress fracture of the tibia. When the orthopedic specialist couldn't give my parents any explanation of what caused my injuries or any advice on how to avoid future injuries, my mom brought me to meet Dr. Sherri and Dr. Rob. While my stress fracture was healing, I began chiropractic care at Borer Family Chiropractic, and I am happy to report that I was able to resume running about half way through my sophmore cross country season - pain and injury free!
Lindsey Talcott
Saline, MI
---
I've been involved with sports most of my life. The two sports I enjoy the most are soccer and wrestling. I came to Dr. Rob after an injury to my neck during a wrestling match. After the injury I had a constant headache for weeks. I also had dizziness and difficulty concentrating in school. And just as important - I wasn't able to competitively wrestle. After a few weeks of care at Borer Family Chiropractic the headaches and dizziness went away. Now after a few months of care I'm back to wrestling and playing soccer.
Steve Jones - Milan, MI