Dr. Rob & Dr. Sherri are not only proud to be the owners of a "small", local business, contributing to the vibrancy of the local economy, but also equally proud to be helping many of the other local business' and business owners in the Saline and Ann Arbor area.
Follow Borer Family Chiropractic's board Taking Care of Business on Pinterest.
Since so much about the success of a small business or individual business owner is dependent on key individuals, especially the owners, its particularly important to be at your best and not slowed down by pain. We are particularly happy to help other business owners reach their goals and dreams by keeping them at their best. Some of those we have helped with this mission are listed below.
Check out their stories and check out their business'.
What can we do for your productivity?
---
"As the owner of Bikram Yoga Ann Arbor West I have practiced and taught Bikram Yoga for many years. As I increased my yoga practice I started to notice an area in my upper spine that was stiff. A good friend referred me to Borer Family Chiropractic. Now after 3 months of care ...
…...my body feels amazing!
My neck is no longer stiff. I feel more energized, stronger and more flexible. My joint stiffness has decreased. I'm amazed at how improving the condition of the spine improves life."
Lora Rosenbaum
Bikram Yoga Ann Arbor West
221 N. Maple Road, Ann Arbor, MI
(734) 845-9642
---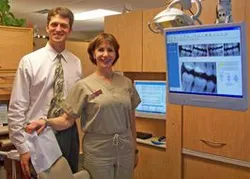 "I have experienced numerous sports injuries through the years. For the past 2 1/2 years I have had difficulty just walking. There was significant restriction in my right knee which prevented me from doing activities that I had considered routine - running, ballroom dancing, cycling; and caused considerable effort to simply walk and descend stairs without feeling like I would fall. After my first adjustment, my right leg felt like it was "unwinding". I felt circulation in my right hand that I had not been aware of before. As the adjustments continued, I started to run carefully on the treadmill. At about four weeks I completed a 5K event without any residual hip or knee pain. In fact it was fun to run, my legs felt so even!"
Dr. Sheryl Pomerance, DDS, FAGD
Advanced Cosmetic & Family Dentistry
154 S. Industrial Drive, Saline, MI
(734) 429-7460
---
"I had neck pain for years which required nightly sessions with a heating pad and lots of Motrin. I was even starting to get numbness in my hands.After a few months of treatment at Borer Family Chiropractic, I was driving in the car one day and realized I had NO NECK PAIN! That was almost 5 years ago. I still see Dr. Borer for a check-up and adjustment every 2 months and I couldn't be happier with my results."
Jill Durnen
Hartman Insurance Agency
111 North Ann Arbor Street, Saline, MI
(734) 429-5491
www.hartmaninsurance.net
---

"After my second adjustment I noticed my right ear was picking up sounds that for the last 17 or 18 years I was not able to hear. As the treatment continued my hearing continued to improve. I am so thankful to have my hearing back."

Ginger Winter
Mary Kay Cosmetics
5608 Glen Oak Ct., Saline, MI
(734) 429-2433
www.MaryKay.com
---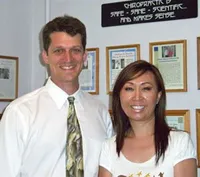 "About eight years ago, I started to have really bad neck pain and numbness. I tried another chiropractor, but he actually made my pain worse. I decided to give Borer Family Chiropractic a try. Dr. Rob took the time to diagnose what was causing my pain and began care. I was surprised at how simple the treatment was. Now, the pain and numbness is much better. I feel like I can live my life happily and without daily pain. I would recommend Borer Family Chiropractic to anyone, even my son is a patient!"
Lori Sun
My Favorite Cafe
101 South Ann Arbor Street, Saline, MI
(734) 944-4054
Visit My Favorite Cafe on the web
---

"I was in such desperate pain that I couldn't think straight. I use to hobble around like an elderly person. Three months into care I can skip, hop on one foot, run and jump for joy. I love feeling this good. Thank you Dr. Rob"
Bev Buck
Lucky Bucks Cafe
Saline, MI
---

Jonna Kemeter with her daughters and Dr. Rob Borer
Jonna Kemeter
Thrivent Financial for Lutherans
126 East Church Street, Adrian, MI 49221
(517) 263-9500
www.thrivent.com
---

"I came to Borer Family Chiropractic because of my back pain. After beginning care with Dr. Borer, not only has my back pain improved, but I have not needed my acid reflux medication in months. Unlike other doctors, Dr. Borer cares for the whole person, not just their symptoms."
Steve Kovalak
Kovalak Excavating
10262 Willow Road, Willis, MI
(800) 566-6626
---

Rebecca Morse with her husband, children and Dr. Sherri Borer
Rebecca Morse
Close At Hand Babywearing
3545 Inverness Road, Dexter, MI
(734) 678-4687
www.closeathandbaby.com
---

"For years before coming to Borer Family Chiropractic, I consumed Tums at an alarming rate to battle the reflux I was experiencing. After a few short months of care at Borer Family Chiropractic, my reflux is gone and my Tums consumption is gone as well. It's now been years since I began care and I can't remember the last time I had reflux. Thank you so much Dr. Rob."
Janis Shake-Lewis
Flagstar Bank, Senior Loan Officer
3526 West Liberty, Ann Arbor, MI
(734) 913-0744 x227
www.flagstarloans.com/janislewis